Skills, training and on-the-job experiences

Abilities First believes everyone should have the opportunity to seek and obtain employment in the community at a fair and competitive wage, and adheres to the "Employment First" philosophy, which states that everyone who identifies a desire for employment has the right to pursue employment of their choice.
Registered Apprenticeships
Abilities First Employment Services provides pre-employment skills training and related technical skills training and related technical instruction to help all apprenticeship candidates succeed in their job. Apprentices work independently under the direct supervision of their employer for a pre-determined length of time, learning skills necessary for the position. At the end of the apprenticeship, the apprentice earns a Certificate of Completion form the US Department of Labor documenting their accomplishment.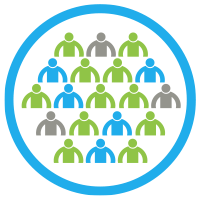 Abilities First Employment Services works with many local employers to offer registered apprenticeships in the following career paths:
Supported Employment
Supported Employment services are available for individuals with disabilities to help them find and succeed in job opportunities that match their interests, strengths, and abilities. Supported Employment consists of the following activities:
Discovery and Exploration
Job Development
Job Placement and Job Coaching
Long-Term Follow Along